Cross train at Coventry Equestrian Center. Learn basic dressage/training skills to better jump and/or supple your horse. Take lessons learning the KISS method: Keep It Simple Student. Teach your horse how to stretch before, during, and/or after jumping…
Lessons for peewee riders, beginner adults or those who already know how to ride but want to improve their skills… Learn how to bend me, shape me, supple me (rather the horse)…
Our horses are adaptable because they have great basic training, and we compete at mini-trials and events as well as at dressage shows.
Join us in the fun!
Call Kristin for more info:
Phone: 724-206-9902,
or email her at
Take lessons... for further info and pictures, download this ad!
Somerset seems to be enjoying jumping. He is an ex-racehorse, trained by Coventry Equestrian Center, jumping at Hot to Trot series in South Park PA, July 31, 2005. He was Champion at last show, jumping and in dressage. Somerset's dressage training is helping him to successfully move up the Levels and over the Fences....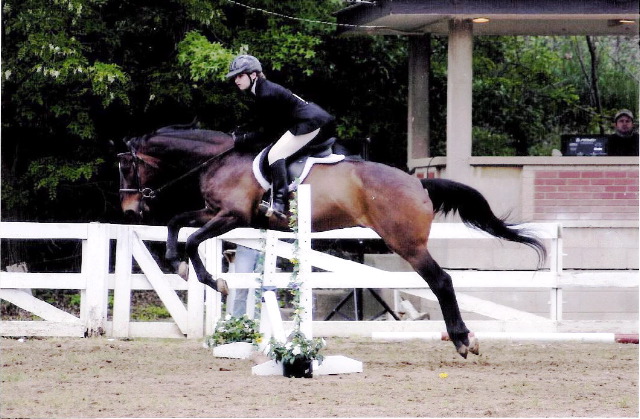 Somerset at Hot to Trot Series in South Park, PA - July 31/05