Our Philosophy
We like to see our students be successful in the dressage show ring riding their own horses we have taught them to train themselves. This training also makes a horse more pleasant to ride even if it is not destined for the show ring, dressage or otherwise. We are proud of the fact that many of our students are successfully showing in many disciplines including hunt seat, eventing and dressage. Dressage is like Yoga for Horses, it benefits all horses.
Why Should You Learn to Ride Dressage?
Be in greater harmony with your horse

Improve rider position and use of aids to best influence the horse

Utilize dressage to keep the horse off the forehand

Bend and relax longitudinal and lateral muscles

Improve gaits, transitions and canter departs, and to develop the topline...
Learn all this from Kristin (with a little bit of work on your part!)
List of Clinicians/ Trainers Kristin has schooled with:
Robert O. Mayer; Hubert Rohrer; Major Butterkay; Carol Grant-Oldfield; Dr. Kent Vasko; Jan Ebling; Roanne Denny-Winent; Dr. Deb Bennett; Linda Tellington-Jones; Sally Swift; Eicke Von Velt Heim; Linda Oliver; Roy Como; Ken Larson; Gerald Kirsch; Violet Hopkins; Dorothy Sashey; Bill Woods; David Wispelaire; Michelle Gibson; Jane Savoire; Peter Kellerup; Fred Weber; Hannah Johnson; Diana Miller-Howard; Krista Tyco; Pia Helsted, Robin Birk, Ken Borden, Dana Fiore, and Lisa Hall...
Kristin and Blythdale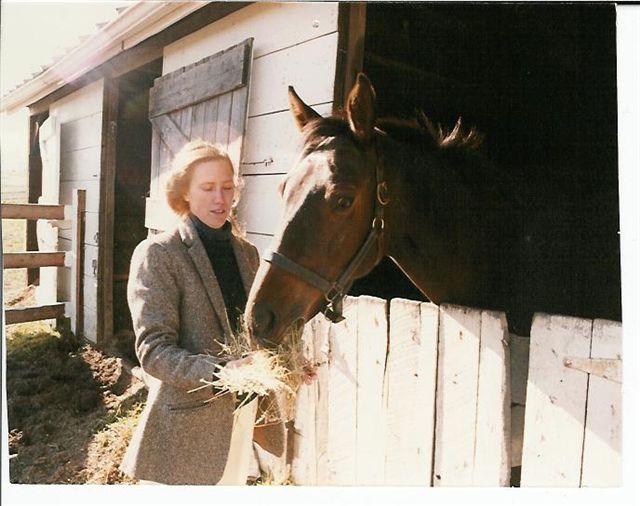 Riding partners during the 1980's!
Kristin & Blythedale
In this picture Kristin is feeding her favorite horse, Blythdale, a Thoroughbred off the racetrack who was given to her as a gift. After several successful years with Kristin, he passed away and now rests peacefully on a private farm in Smithton, PA where Kristin trained during the late 1980's with Roanne Winnett, wife of the famous Grand Prix rider John Winnett. Roanne, at one time, was a trainer of Queen Elizabeth's event horses in Great Britain.
Blythdale was named after a book by Nathaniel Hawthorne entitled "The Blythdale Romance", and Kristin, in Blythdale's memory, uses his name as her username for this website!
Kristin was included in the Who's Who Among Rising Young Americans, 1990 Edition.
Also in 1990, Kristin and Erle's Bliss won AHSA/American Bankers Insurance Company, Zone 11 ( six states) Champion, Adult/Amateur Training Level Dressage.
In 2012 and 2014, after 23 years of not showing, she and her horse Bracchus won the USDF All Breed Award for the Spanish Norman Registry! And, in 2012 was the Highest scoring Spanish Norman horse in the country.