Here is a 'Coventry Kid' figuring out how to put the halter on -- it is like a puzzle.
Coventry Kids go with the instructor to get the horse and, of course, the instructor helps until the student can figure it out or even reach to put the halter on. All young riders help to get their own horses groomed and tacked and put away. This is part of the horsemanship taught at Coventry.
Our lessons are all one-on-one / private, until the rider is independent enough to ride with another and/ or get their own horse ready. All riders begin on the lunge line where they are safe and learn their balance in order to control the horse.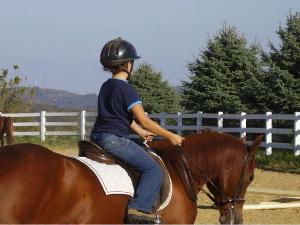 After tacking the horse up, we have a very nice rider on a happy, fat and well kept horse.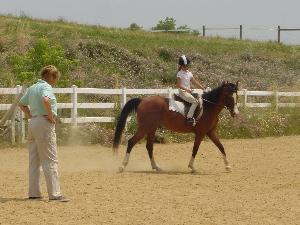 Kristin is teaching a young rider (age 9 on her Arabian) how to bend, and /or position her horse onto the arc of the circle.
Our riders actually learn how to ride! Teaching riders how to position their horse also gets them to have elastic elbows - elbows that move with the horse. At Coventry, the elbows are called "the key stone to 'on the bit.' "
This same horse and rider combination compete in hunter shows and below we have pictures of them in competition.
The three photos of Zoe shown below were taken by John Kuhn of
Kuhn's Photography
. Click on the link, or on any of the three photos below, to go to his website!
| | |
| --- | --- |
| | Madame Sweetness... an Arabian mare hosting an 8 year old rider - totally confident |
| | Madame Sweetness, an Arabian, cannot help but jump with enthusiatic Arabian style. She is obviously happily doing her job for her young rider. This is their second hunter show. |
| | Is this photo not enough to make you want to go out and buy a horse....!!! |
| | | |
| --- | --- | --- |
| | | |
| This is Spirit the day he arrived at Coventry with his new owner. A happy and nervous pair! Little did Spirit know he was going to get fat and be trained in dressage and jumping. | This is Spirit's first hunter show with his owner. Both are highly attentive - concentrating very much! Note the rider's good leg and hand position. At their first hunter show with more than 15 in each class Spirit won two seconds, two thirds and a sixth. Spirit also competed in dressage with his leaser and scored an average of 61.645% at Training Level showing at recognized (USEF) horse shows in 2005. | This is one of Coventry's young riders (age 14) who leases Spirit and is competing at a recognized dressage show. Note the beautiful lattice braid. This horse competes both in dressage and in hunter shows. He turned 21 in 2005, and is a versatile Quarter horse who does it all. In 2004 this pair was WPDA Training Level and Walk Trot Champions. In 2005, Spirit competed successfully at First Level. His owner is jumping him (left, above) at a local hunter show. |
| Here is a happy "Coventry Kid" riding an awesome pony named Minime in the Upper St. Clair Parade! |   |   |