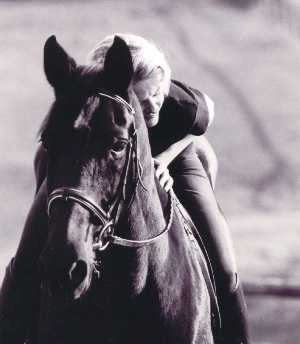 Remember Anita, who won the WPDA Adult Walk Trot Championship? Well, she had surgery and is doing great. Soon Anita will be back in the saddle on Midnight to win Training Level in 2004. That is, she may win, or she may be reserve right behind Cheryl and Babe...Stay tuned to see how they do in 2004!
Creative Complaining (Feel free to gripe - but do it right.) This is advice from the author, Robin M Kowalski, of Complaining, Teasing, and Other Annoying Behaviors. All barn owners and boarders should read this one. As a matter of fact, everyone should read it. Just so you know, at Coventry I try to do everything right so there is no complaining, and we do an okay job. It says in the article, "If it is worth doing, it's worth doing well...". Kowalski's tips for complaining are: Don't make it personal; Do it sparingly; Have an authentic complaint; Have proof; Complain to the right person; Turn the negative into a positive. This FYI is from USA Weekend (see, I read my Sunday paper) Nov. 21-23,2003.
In Training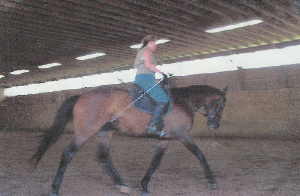 I am schooling my Thoroughbred in Dressage. Please advise.
You have a very nice horse. The picture is a little blurry but I can still see a lot of good qualities to your riding. What stands out is your good leg position and seat. Your heel could be down a bit to be perfect, but, hey at least you have a decent alignment from your heel, hip, shoulder and ear. It is hard to tell if you are sitting the trot or rising. If you are rising, you are on the wrong diagonal. If you are sitting, you could bring your torso back a bit. By doing this you will also help to lift your horse more toward his haunches and less on his forehand. He is tracking up nicely and shows real nice movement. But, to advance with dressage, you willl need to get him more underneath and uphill. I am sure canter/trot transitions would help to bring this to fruition. Also, by sitting more back with your torso, your hands would lower and the whip would then come to be placed just behind your leg instead of on the horse's flank. It looks as though you are a bit stiff in the shoulders as you are carrying your hands slightly, although you do have a very nice elbow to bit connection. However, to get this mount more underneath you, sit back, let your elbows drop by your hips, allow the whip forward and enjoy the ride. By sitting back you will let this horse come under and up and really express himself. I think you will be surprised at his transformation. Send me another photo in six months.
Here are some tips for the USDF Introductory Level Tests from Practical Horseman, April 2003.
These tests are the stepping stones to the USA Equestrian Training Level Tests. The double and triple points are for the twenty meter circles and the free walk. (Don't squash that walk.)
Good circles show good training, a good free walk shows purity and quality of the gaits.
The rider's position gets a triple coeficient.
Got to have a good position (seat) before you can even considering doing "dressage".
Recipe of the Month
Bran Mash
Several cups of bran or oatmeal
Carrots and apples with raisins
Sunflower seeds
Teaspoon of bee pollen
Linseed meal
Pears and/or bananas
Teaspoon of sea salt
Cup of Clarion Call Herbs
Teaspoon of garlic
Molasses
Mix with warm water till it has cooked to an oatmeal consistency.
Serve to your horse.
You might be thinking there are a lot of ingredients to this bran mash. There are. The point is, you can be creative! You can use oatmeal instead of bran, you can use grain, you can add carrots or apples, or raisins, or maple syrup and molasses. You would be amazed at what our vegetarian horses will eat. Whether it is a fruit or vegetable mash will not matter to your horse. A warm tasty and steamy meal now and then at the barn is such a treat for your horse. Mix the dry ingredients at home, and bring the hot or warm water in a thermos. Voila! MMMMMMmmmm good!