Mars, PA, seems a far-out place for most persons encountering its whereabouts, but for Austrian-born Hubert Rohrer, Mars is a central point connecting countries, people and horses. Rohrer is an FEI level judge; he coached the El Salvador show jumping team for more than 10 years, bringing them to a Central American jumping powerhouse; and currently operates his own successful Maracahan Farm in Mars.
At 14. Rohrer was accepted as the youngest trainee into the Spanish Riding School of Vienna, Austria. In two years he became an Assistant Rider under Alois Podhajsky. At 18, he performed in Walt Disney's The Miracle of the White Stallions, filmed on location. Rohrer's eight years at the Spanish Riding School ended with a United States tour as a rider on the quadrille team, and in 1965 he became a United States resident.
When one first encounters Rohrer on his farm he seems huge and overbearing. He stands 6'4" and weighs 202 pounds. However, the "Danger Alligators" sign posted openly near a pond on the farm, the trailer clearly labeled "Horses from Mars", and the 17.1-hand Thoroughbred/Clydesdale farm mascot, Moose, who freely roams the farm, quickly changes the initial reaction.
Rohrer finished a lesson given in Spanish to a boy from El Salvador and then mounted Guardy, a 16.3-hand Thoroughbred/Hanoverian cross. Guardy carried him lightly and rhythmically as they cantered balanced 10-meter circles around the student and his horse standing in the center of the arena. Gradually, Rohrer enlarged the circle and broke the trance to resume a leg yield off to the arena wall.
Rohrer loves the Thoroughbred. "There is nothing more beautiful than a long-legged Thoroughbred doing a half-pass and crossing over", he said. Rohrer calls some European imports clunkers, and says Americans have had to be more sensitive with their training because of the Thoroughbreds. He cautious riders, "Be patient, you are riding a Thoroughbred, you are riding a psychopath. It takes longer to train an American Thoroughbred that has been bred for racing, as compared to European horses that have been bred for five generations or more for either jumping or dressage." When Rohrer first came to the United States, he said, it took him three years to learn how to understand a Thoroughbred. He appreciates a crossbred. "I would like the European horse's mind with the Thoroughbred's body."
Rohrer cautions that when training, "You have to be extremely careful of how far and how much you ask." He believes he would have made more horses to the top if he had listened to Wolfgang von Goethe: "He who cannot control his own body, his mind, and his temper has no right to even consider to control the body, mind or temper of such an aristocratic being as a horse."
"Dressage", Rohrer said and not "poodle dressage" is "more besides the basic strengthening and suppling exercises of the muscles of the horse. It is the mind developing, whereby the horse and rider learn to think as one." He believes dressage is a natural process for the horse, "because all the movements, with an exception of a few, are pure natural movements of the horse."
Rohrer is critical, yet understanding, of many of today's dressage teachers. Instructors are not "necessarily over-looking the basics, but are hard pressed to do things they do not want to do. Everyone works in a competitive environment these days", he said. "I was longed for approximately 300 hours at the Spanish Riding School before being allowed to take the stirrups and reins. I learned to sit in the horse and not on the horse. But, today it is expensive to take a lesson, buy a horse, not to mention compete. Therefore, it is understandable that Americans are in a hurry."
Rohrer believes students should ride without stirrups as much as possible, as long as the horse is capable of handling the weight, since many cannot afford to learn the classical ways on the longe line. "Then, if you obtain the basic position, you can use all your mind, energy, and strength to give the aids, while if you do not have a good basic position you spend 10, 20, 30 percent of your energy and mind compensating", Rohrer explained.




Rohrer rode for two years in Austria show jumping, and presently focuses much of his energy training jumpers, and judging hunter/jumper competitions as well as the usual dressage competitions. In 1979 Rohrer was a member of the jury at the Aachen-Teutenhof show. "In Europe everybody uses dressage to train their jumping horses. They do, in my opinion, use too much rigid dressage. I think the American system is much better: Give me a sharp balanced turn at the canter, but it does not have to be a perfect half-pirouette in four strides. Besides, the former is faster", he said.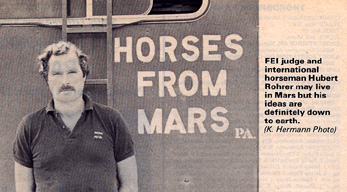 Stick to the Basics
Recently, Rohrer gave a clinic at Greenmoor Common Equestrian Center located in Canonsburg, PA, and startled many of the participants. "You stick to just the basics", commented one rider and Rohrer replied, "Yes, that is all of it." It was almost too simple.
"You have the horse between your seat, legs, and hands", Rohrer whispered 'hands'. "Grow up and grow down - stay perpendicular to the horse", was repeated as performances became easier for both riders and horses in the clinic. "You cannot teach a dancer with a whip in your hand", Rohrer said quoting Podhajsky.
Rohrer's clinics are a combination of seriousness and humor. The atmosphere stays light and helps the riders to relax, and thus the horses. "Keep those heads up, feel what the horse does with its body. Leave the thinking to the horse, they have bigger heads", he said.
"Do not try so hard. It will come all by itself", he explained to a 47-year-old male intermediate rider. "Riding with strength does no good." In order to hamper some riders from trying so hard he questioned them during their rides: "Who is your last best friend when you are riding?The seat is your last best friend", Rohrer answered himself, "because it is what unifies the rider with the horse". In order to obtain this seat he added, "the cheeks must be open, and I am not talking about those cheeks", he said as he pointed to the face.
Rohrer used the spectator gallery to enhance the educational value of the clinic. They evaluated each horse's engagement: is the horse stepping underneath itself; is the back swinging; is the horse on, or a little before, the vertical, but never behind? He explained engagement: "The hock should not come behind the point of the rump when trotting." In other words, the horse is always stepping underneath itself, thus the hindquarter is carrying most of the weight. He simplified achieving this: "The seat and leg aids say go, go, go, and the hands say slow, slow, slow."
Discipline is required, Rohrer said, towards achieving well-ridden corners. "Where are you hiding those corners?" Rohrer frequently commented. "You want the horse to use the strongest muscles of his body - the back and hindquarters. Bending into the corners helps the horse to step under himself and use these muscles.
"Circles", Rohrer explained, "force the horse to step under with the inside hind leg and psychologically slow down". Spiraling in and out on a 20-meter circle at a trot or canter was an exercise performed frequently. "The inside rein is the flexing and bending rein, the outside rein is the holding or supporting rein", Rohrer explained.
Hunt seat, three-day event, dressage 'purists', and pleasure riders participated in the clinic. Rohrer offered all an experience of discipline and enhanced understanding that perfected performances, changed attitudes, and unified the different styles.