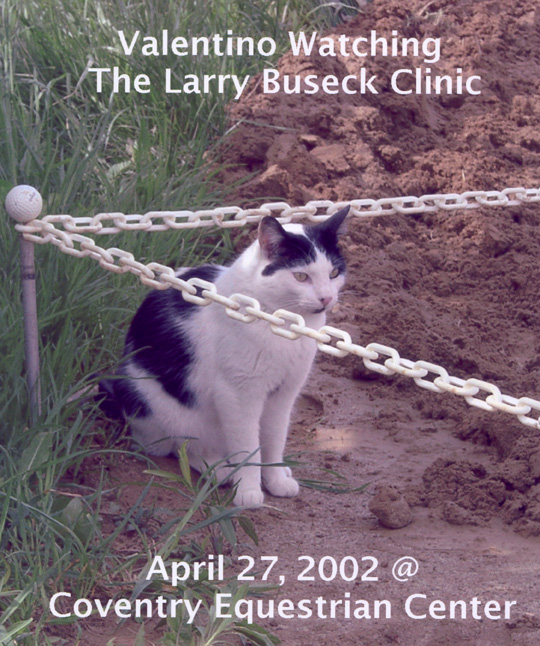 Valentino parked himself very neatly in the corner of the dressage ring during a schooling show. He was so prim, proper and polite sitting here, we just had to include his picture!

Shows
COVENTRY EQUESTRIAN CENTER

WPDA Sanctioned Dressage Schooling Show

Sunday, June 25, 2017, 8:00 am

452 Old Hickory Ridge Road, Washington PA, 1 5301 — www.coventryequestriancenter.com

An additional show will be hosted September 10, 2017
Judge: Tamara Heckman of Uphill Dressage

Opening date: Friday, May 26th ~ Closing date: Monday, June 19th
Ride times will be distributed via email on Friday, June 23rd.

Show Manager: Kristin Hermann (412) 296-2130 blythedale@comcast.net
Show Secretary: Katie Crocker (434) 981-6814
elizabethkcrocker@gmail.com

Classes 1-22: $25/class ~ Classes 23-26: $20/class
Late fees: $25 per entry after closing date
Click here to download Show Bill

Workshops
Workshops - Kristin is available for clinics on lungeing, accepting the bit and developing a soft contact, riding your horse straight, half halts, developing the top line with stretching... Learn to use gymnastic training to enhance you and your horse's training! Get a group of three or more and lets have a workshop!

Events, Fun(d) Raisers

Pilates for Equestrians - Contact Anita
Pilates is no longer offered at Coventry
Presented by
Comprehensive Peak Pilates Instructor & Equestrian
Anita Buzzy Prentiss
In this introductory seminar, you will learn basic Pilates concepts to enhance your riding experience. Bring a yoga or Pilates mat or thick blanket in order to exercise on the floor. We will continue in following weeks with a Pilates Mat Class geared to equestrians, but anyone can benefit.
Anita is a Fully Certified Comprehensive Peak Pilates Instructor and an avid equestrian in dressage and hunters. She has enjoyed miles of trails, has barrel raced, and won many ribbons at horse shows for over 15 years. After noticing the tremendous positive impact that Pilates made on her riding, she decided to become a trainer, and she loves to share these ideas with her riding friends. She teaches private sessions on specialized Pilates equipment in downtown Pittsburgh and at her own studio in Squirrel Hill.
For more information or to reserve your space in the seminar, contact Anita: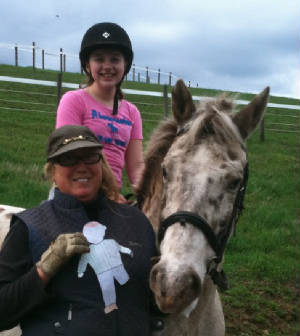 Flat Stanley visited Coventry during his world tour!

Coventry used to host Special Olympics.
We even took two riders to compete in the Special Olympic Summer Games. It was awesome! Here is the link to an article about our adventure! http://build.tripod.lycos.com/trellix/sitebuilder/f_edit_page.html
Coventry took SO to the Summer Games to compete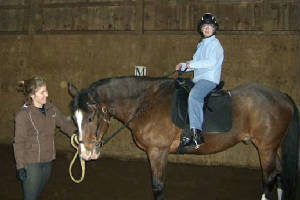 Read article here http://blythdale.tripod.com/coventryequestriancenter/id46.html