Ingrid Albrecht MacNamara - coming to Coventry on Saturdays. Talk to Kristin if you are interested.
May 29th... Coventry Equestrian Center Schooling Show. See website for details and downloadable registration form.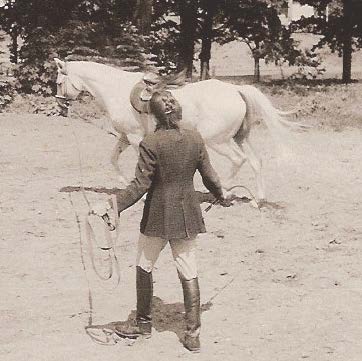 Clinics
Kristin is available for clinics to train you how to Home School your Horse: Lungeing, Acquiring a good Basic Position, training your horse to be Relaxed, Rhythmic and Round, Off the Wall Riding to put your horse Straight, Longitudinal and Lateral Suppleness, Stretching, and Lateral Work... If you need any help schooling your horse to be relaxed, accept the bridle, lungeing, developing a top line, cantering on the correct lead, stretching, shoulder in or leg yielding... ~ call!

Learn Confidence Building Techniques
with
Evon Montgomery
Evon gives clinics at the Horse World Expo, Equine Affair, Mid West Horse Fair & Equi Fest, and locally.

She is going to help teach our horses to be calm using props such as banners, speaker systems, a bouncing ball, and even a baby carriage. Evon helps you learn how YOUR horse will react to objects encountered at a show or anywhere. YOU will gain tools to instill confidence in your horse when uncertain situations arise.

This is a mounted and un-mounted clinic!
Riders & horses will work in groups of two or three and/or private sessions.
Clinic starts with a half hour talk on desensitizing your horse without instilling fear!

Lunch will be provided with a 15 minute Q&A before the next group of horses.
WPDA Members receive a $5.00 discount.
New members: Join for 2017, and get the discount.
Preregistration required by Nov. 7th, 2016 (We need to plan lunch.)
Semi Private Session: $45.00 per rider & horse includes lunch
Groups of three: $40.00 per horse and rider includes lunch*
Private Session: $65.00 includes lunch
Auditing: $20.00 (all day includes lunch) Half day $10.00 no lunch. Pay at the door add $5.00(no lunch)
Click here to download flyer/registration form.

Visiting Trainers - two jumping trainers, and three dressage trainers. Or, bring our own!
Coventry is one of the few stables that allows outside trainers. We do not want to tell you who to ride with or which farrier or vet to use for your horse....Outside trainers must have insurance!
Sue Stepuson comes to Coventry every other week to give lessons in hunt seat/jumping. Lisa Hall comes monthly as well as Robin Birk. Blaine Orris from Blaine Orris Eventing also trains out of Coventry.
For more information (times, dates and rates) call or email Kristin.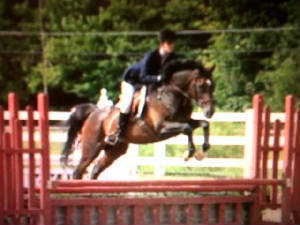 Mister Matthew, an off the track thoroughbred excells at hunters and dressage
Several horses at Coventry compete as both dressage horses and hunters.
George Morris would be proud!
Read the article about the two clinics we attended with George under Training Articles...
George Morris actually rode Mister Matthews ( Matty) twice!
Read article here: http://blythdale.tripod.com/coventryequestriancenter/id73.html
Mister Matthew, 1st Level at Lake Erie College